We care about you just as much as we care about the food we create. We know our clients want good food and we promise to consistently deliver food you can be proud to eat.
At Montrose Meats & Smokehouse, we build relationships that last. We do this by promising to respect you and your preferences, help you choose the best products for your needs, offer ideas to help create your next delicious meal, and provide a service that is welcoming, enthusiastic and helpful.
OUR OWNERSHIP
Rob and Veronica Earney take pride in their family butcher shop and in their community. They reside in Montrose as active community members and have raised their family there. Their pride and devotion to their business show in the products they deliver, the service they provide to their clients and the team they support to deliver superb quality products. Their passion, commitment and hard work mean that people who purchase from Montrose Meats & Smokehouse can be proud of what they eat and serve to others.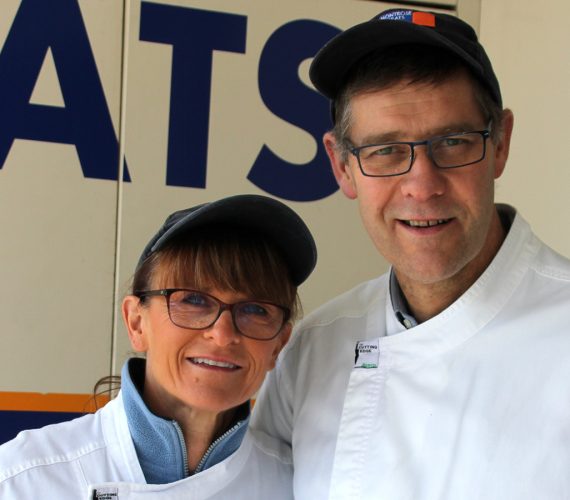 OUR STOCKISTS
A selection of Montrose Meats & Smokehouse products are stocked in a number of fine stores, cafes and restaurants around Melbourne, including
If you own a business that would benefit from serving our products please contact us today and we will bring a sample for you to try.
OUR SUPPLIERS
We pride ourselves in building long-term relationships. At Montrose Meats & Smokehouse, we have enjoyed long lasting relationships with our meat suppliers, which has enabled us to consistently deliver superb quality meat.
Russell has supplied grass fed and hormone free beef and lamb for over thirty years. Gavin, the pork supplier, has worked with the business for over twenty-five years and the chicken hails from a poultry provider who delivers high quality poultry products, including free range.
Visit us today to experience the difference superb quality makes. You will be proud of what you eat.
OUR HISTORY
Montrose Meats & Smokehouse enjoys a long, proud history of serving people who care about eating good food.
Its humble beginnings date back to the 1950's and since 1962, two families have owned and operated the business: the Earneys and Landells. Ian Landell served as an apprentice under Jack Earney, and Rob Earney – the current proprietor – served as apprentice under Ian Landell.
Throughout this time, both families embraced the concept that craftsmanship, quality meat and strong relationships were essential ingredients to their business.
Montrose Meats embraced innovation with its craft very early on and were pioneers in the use of marinades and small goods production. Ian Landell's German background gave him a good start in the development of premium Australian hams, bacon and cooked sausage.
In 1983, Rob and Veronica Earney bought the business from Ian and Jenny Landell, and remain the proprietors today.
Over the last four decades of Rob and Veronica's ownership many changes have occurred. Sawdust no longer covers the floors and recent shop renovations have brought food production to industry best standards.
Montrose Meats & Smokehouse now carries a diverse range of products, including fresh meat cuts, pan and oven ready meals, pre-cooked wholesome meals and a range of unique home produced small goods and deli lines. The small goods have proudly received multiple awards, including the best bacon and cabana in Victoria.
And Montrose Meats & Smokehouse still supply Rob's Father's 'Jacko's rissoles ' as a regular stock item in today's display, using the same recipe created by Jack back in 1962.
Pride in the traditional craft of butchery, providing consistent quality and maintaining strong relationships remain at the heart of Montrose Meats & Smokehouse.